Sehr geehrter Herr Knut,
Bitte nehmen Sie zu Kenntnis, dass wenn die Erderwärmung weiter so fortschreitet, - und nun wissen wir ja, wem wir sie zu verdanken haben-, dass eine kontinuierliche Berichterstattung im königlichen Außenposten nicht möglich ist. Während sich die Herren Eisbären fragwürdigen Vergnügungen hingeben, schwitzen wir derart, dass mit den abfließenden Schweißperlen ganze Seen gefüllt werden könnten, wie Sie sicher wissen, gerade dort wo es um Inseln geht, die nur knapp über dem Meeresspiegel liegen, eine große Gefahr. Hiermit beantrage ich auf weiteres zum Schutze unserer Insel gegen Überschwemmung Hitzefrei!
Ihre sehr besorgte und bereits in Schweiß aufgelöste
Mami Simba aus Rodrigues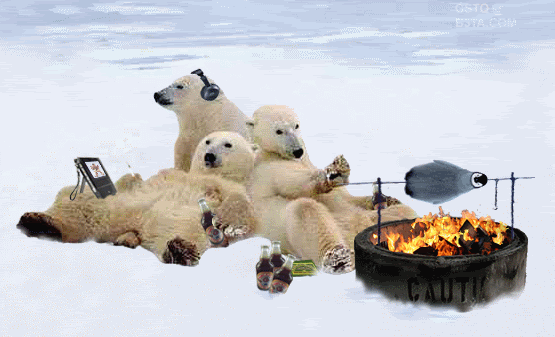 Dear Mr.Knut,
With great discomfort, especially since we know now who is responsible for this, I address to you in following matter. If global warming continues to progress so rapidly, we will be forced to stop reporting continously in your Royal Outpost due to excessively hot weather. While the gentlemen Polar Bears indulge in questionable activities, we are sweating so much that new ponds could be filled alone with our downflooding sweat perls. An extremely dangerous thing for islands being located just a tiny bit above sea level, as you certainly know. Please take note of our application to cease work for the time being in order to protect our island!
Sincerely
your very concerned (already dissolved in sweat)
Mami Simba
Animation: unknown source